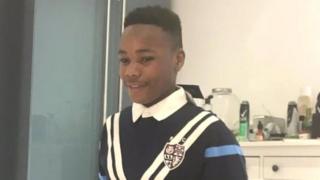 A man has been jailed for murdering a 14-year-old boy in a "savage, frenzied" attack.
Jaden Moodie was knocked off a moped and repeatedly stabbed by rival gang member Ayoub Majdouline in Bickley Road, Leyton, in January.
The drug dealer was found guilty of the murder on 11 December after his DNA was found on the murder weapon.
Majdouline, 19, of Wembley, was sentenced at the Old Bailey to life with a minimum term of 21 years.
As Jaden's family left court, his father Julian Moodie said he was happy with the sentence, adding: "British justice has been done."
Sentencing Majdouline, Judge Richard Marks said he could not "ignore the evidence" about Jaden's drug dealing and other criminal-related history.
"That he became so involved starting at the age of 13 is truly shocking but none of that means he deserved to die, still less in the circumstances in which he did," he said.
Majdouline was one of five men linked to the stabbing who drove around east London in a stolen Mercedes looking for members of a rival gang to attack on the night of 8 January, the court heard.
The group, linked to drug gang the Mali Boys, had covered their faces and two of them, including Majdouline, wore yellow rubber gloves to avoid being identified.
The killing was caught on graphic CCTV, which was shown at the trial.
Once the group spotted Jaden, he was knocked off his moped by the car.
Gang members then got out of the car and stabbed him while he lay on the ground.
Jaden, who was dealing drugs for rival gang the Beaumont Crew, suffered nine stab wounds and bled to death in the road as the attackers ran back to the car and sped off, the court heard.
In a victim impact statement, Jaden's mother Jada Bailey said her son was a "loving and caring, family-orientated little boy" and described his murder as "barbaric".
Ms Bailey said she felt "let down" by organisations she had turned to for help.
She told the BBC she had complained to social services about her son being groomed by gangs, and moved 140 miles from Nottinghamshire to Waltham Forest in east London to escape trouble.
"I feel like all this could have been avoided," she said.
"No parent should have to bury their child before themselves."
Majdouline had a "non-existent childhood" and was particularly traumatised by the murder of his father, the court heard.
Three years after his father's death, he was identified by the National Crime Agency as a victim of "modern slavery".
His lawyer James Scobie QC told the court: "He had significant disruption by experiences of trauma and exposure to certain ideologies that no-one of any age should be exposed to."
Giving evidence in the trial, Majdouline said he had turned to county lines drug dealing "to survive".
Det Insp Dave Hillier said the Met Police's "work is not over yet" and the investigation was still live.
"We know that there were five people in that black Mercedes," he said.
"After deliberately ramming Jaden off his moped, his attackers did not think twice about carrying out a savage, frenzied attack on him – stabbing him nine times in seven seconds while he laid defenceless on the ground."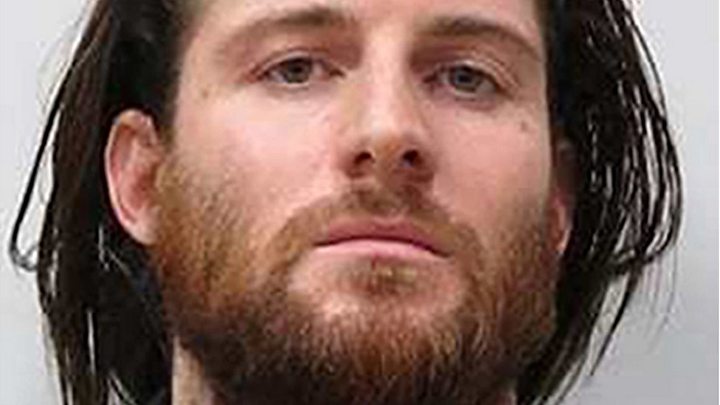 A killer once dubbed one of Britain's most wanted fugitives has been jailed for at least 26 years.
Shane O'Brien, 31, evaded police for three-and-a-half years after he slashed Josh Hanson's neck in Hillingdon, west London, on 11 October 2015.
He fled the UK, changed his appearance and moved around Europe before his extradition from Romania in April.
O'Brien, who jurors found guilty of murder last month, was given a life sentence at the Old Bailey.
CCTV released during the trial showed 21-year-old Mr Hanson clutching his neck and stumbling as blood poured out of a 37cm (14.5in) wound.
'Abrupt, vicious, violent'
After the killing, jurors heard, O'Brien was seen "calmly" walking out of the bar.
He made his way to Ashford, Kent, where a contact had chartered a private four-seater plane to take him to the Netherlands.
The killer grew a beard and long hair and changed his tattoos as he travelled through countries including Germany, Belgium and the Czech Republic, the court was told.
In 2017, the father-of-two was arrested over a dispute in a Prague nightclub but gave police a false name and fled while on bail.
The trial heard the 31-year-old was added to Europol and Interpol's most wanted lists but still managed to lay low.
However, he was eventually caught by Romanian authorities after he contacted Scotland Yard to arrange a possible meeting, the jury heard.
Sentencing the father-of-two, Judge Nigel Lickley QC called it "a grotesque, violent and totally unnecessary attack on an innocent man".
"The reason why you behaved in such a way may never be fully explained. You, however, know the reason," he said.
In a victim impact statement, Mr Hanson's mother Tracey described her son as being "considerate, kind and generous".
"He was taken from us in the most horrific way possible – suddenly, abruptly, viciously and violently," she said.
The victim's sister, Brooke, said the 21-year-old "was not just my brother, he was my best friend", and described his "infectious smile" and "magical presence".
She told the court she had suffered from anxiety and post-traumatic stress since the killing and found herself always wondering if she could have protected him from the "evil" that took him away.
During the trial, O'Brien had claimed he felt threatened by Mr Hanson's "very aggressive body language" and had only meant to scare his victim.
There were angry shouts of "coward" from the public gallery as he was led away from the dock.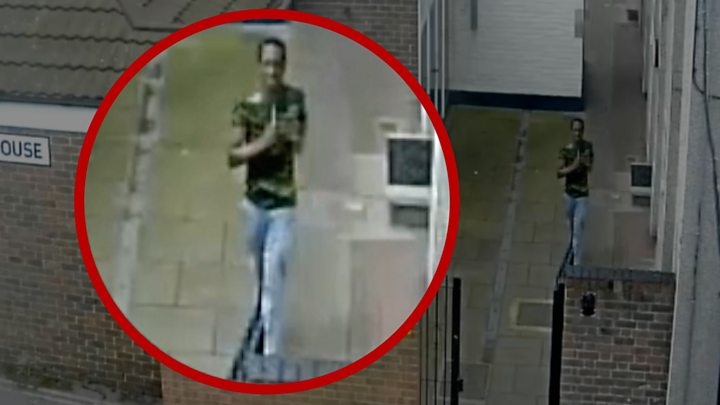 A drug dealer has been jailed for stabbing a police officer who tried to apprehend him in a park in Portsmouth.
PC Russell Turner, 56, suffered a collapsed lung after being stabbed twice by Michael Enzanga in February.
Enzanga, 20 was found guilty of causing grievous bodily harm with intent, possession of a knife and drugs offences following a trial in August.
He was jailed for 16 years and ordered serve at least two thirds before consideration for parole.
Prosecutor Dale Sullivan said the case was made more serious because the stabbing took place near to a nursery, and because it was against a police officer.
In an emotional statement, PC Turner told the court on Wednesday he felt anger towards Enzanga for leaving him lying in his "own blood".
"Most of all I can never forgive him for the upset, pain and emotional trauma he caused my family," said PC Turner.
'Thinking all sorts'
"On the day I was stabbed my wife was at home and my sergeant knocked on the door and told her what happened.
"During that half hour car journey her mind was thinking all sorts, wondering if I was going to live."
A father-of-two, PC Turner was not able to return to work for 10 weeks and has now left Hampshire Constabulary.
During the trial jurors heard how PC Turner was stabbed during a "full-on fight" with Enzanga while investigating reports of drug dealing in Stamshaw Park.
The plain clothes officer got out his warrant card out and identified his colleague PC Clare Parry and himself as police officers when Enzanga tried to run away and the struggle broke out.
'Hiding under tarpaulin'
PC Parry broke down in tears as she described Enzanga as like a "caged animal fighting for his life".
After the stabbing, Enzanga fled in the direction of a block of flats but was seen by members of the public and on CCTV carrying a knife before being Tasered by officers.
He was eventually found hiding under a tarpaulin in a back garden with the barbs from the Taser still lodged in his back.
Passing sentence, Judge Roger Hetherington told Enzanga: "You were no innocent dupe. You were already an experienced criminal who knew exactly what you were about."
'Dangerous man'
Speaking after the sentencing, Det Insp Matthew Barcraft-Barnes said: "Enzanga's brutal actions that day could have easily caused the death of our officer.
"As young children watched on, he didn't think twice about using his knife, all he cared about was his escape, no matter what the consequences were for anyone else.
"It is never easy to have to deal with a case when one of our colleagues is seriously injured for simply doing their job, but the team showed great professionalism and dedication to ensure this dangerous man was taken off of our streets."
Enzanga, of Ashfield Road, Tottenham, was also convicted of four charges of possessing crack cocaine and diamorphine (heroin) with intent to supply, and a charge of possessing criminal property in the form of £1,000 in cash.